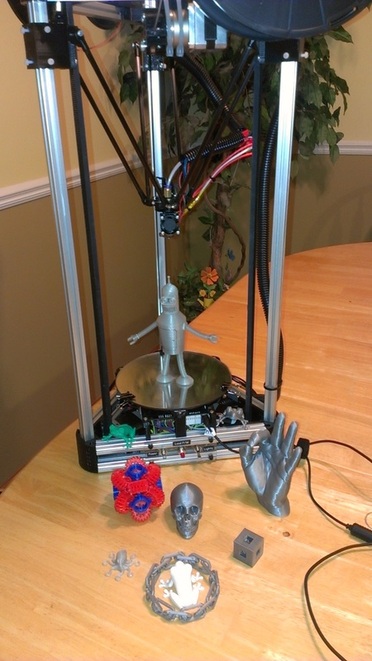 I would like to introduce my newest printer.......THE KOSSEL!!
My favorite feature of this amazing 3D printer is the auto bed leveling. It insures the critical first layer lays down perfectly.
I also love the portability of this machine. All you need is a laptop computer and you can take the printer with you.
I added a power switch, light switch, firmware load button (no need to mess with jumper), a peek fan for cooling the PLA to keep it from clogging the nozzle - a must for PLA, and an LED light over the nozzle.
I came up with my own linear slide system that uses nylon screws that ride in the slots of the vertical towers. This design is based on information given in the following link
http://reprap.org/wiki/Kossel
.
If you want one of these awesome machines, you have to build it. Many of the parts need to be printed on a 3D printer. What can't be printed will need to be sourced from places all over - almost none of it is local.

(If you want a Kossel of your own contact me here, I will make you one for half the cost of a Makerbot)
---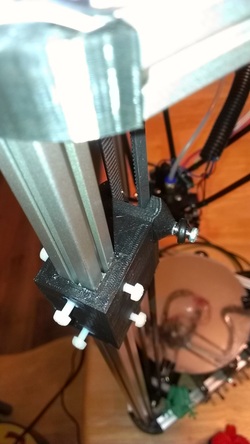 Here is a picture of my slide design. I scaled the slide to fit the rail perfectly when I printed it. The screws are 3mm nylon. Adjusting the nylon screws gives you just the right movement for amazing print quality. This saved me almost $180 in steel slide rails with skates.
If you a building a Kossel and you would like to try my slides out, just contact me here and I will share the files we created. you just need to by the 3mm screws on ebay for about $4 a bag
Click here for a video of the slides in action
---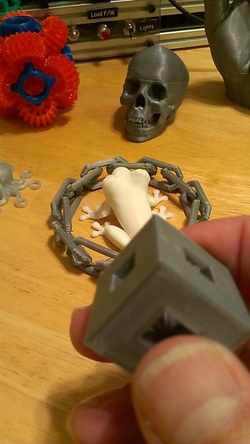 Everything in this picture was printed on this machine. I have a Makerbot Replicator and a Rostock Max and the print quality on this machine is as good or better for about half the cost. This machine is smaller than the other 2 but 90% of what I have printed this past year would fit on this machine. ( the Max can print about 10 inches across, the Replicator about 8" and this is 7 ".


Another feature I have incorporated is printing on Lexan clipped to a mirror.
The build sheet calls for $30 glass plate. I use a cheap mirror from a craft store with $3 piece of Lexan and a shot of hair spray. Some people like blue painters tape but it leave the texture behind and the best part is, If you have a delicate part to remove, you just remove the 3 binder clips then the top plate and bend the lexan plate a little and your part just pops off. With a perfect bottom surface.


---
What really drew me to the Kossel was the auto bed leveling feature. Not only does it make printing much easier, it looks so cool to watch as it probes the bed in 37 places to calculate the optimal distance for the critical first layer of printing, why is this so important? If the first layer comes loose you can ruin a print that took hours to print..
When you see the head swipe past the belt it is actually deploying a spring loaded measuring probe and at the end of the sequence the probe is pushed back into the nest, using the edge of the plate.
Here is a video I posted of my machine checking the bed surface, Notice that I added R2D2 sound effects for command like start and end print. I can be in the other room watching TV and when printer is finished with a part I hear it in R2D2, calling out to me.....
Come on, how cool is that!

Youtube link to my video
......
Print pictures from Kossel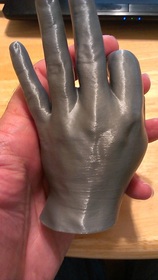 Here is a hand that came from
Thingiverse
that I printed in many sizes. This is the big one
---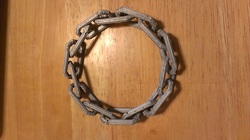 Here Is a chain bracelet

---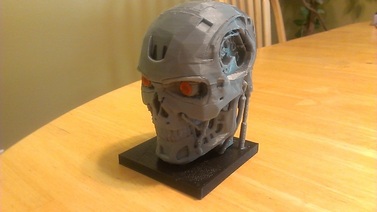 This is the terminator from Thingiverse. Closeup of front view below ( I added the red eyes and black base)
---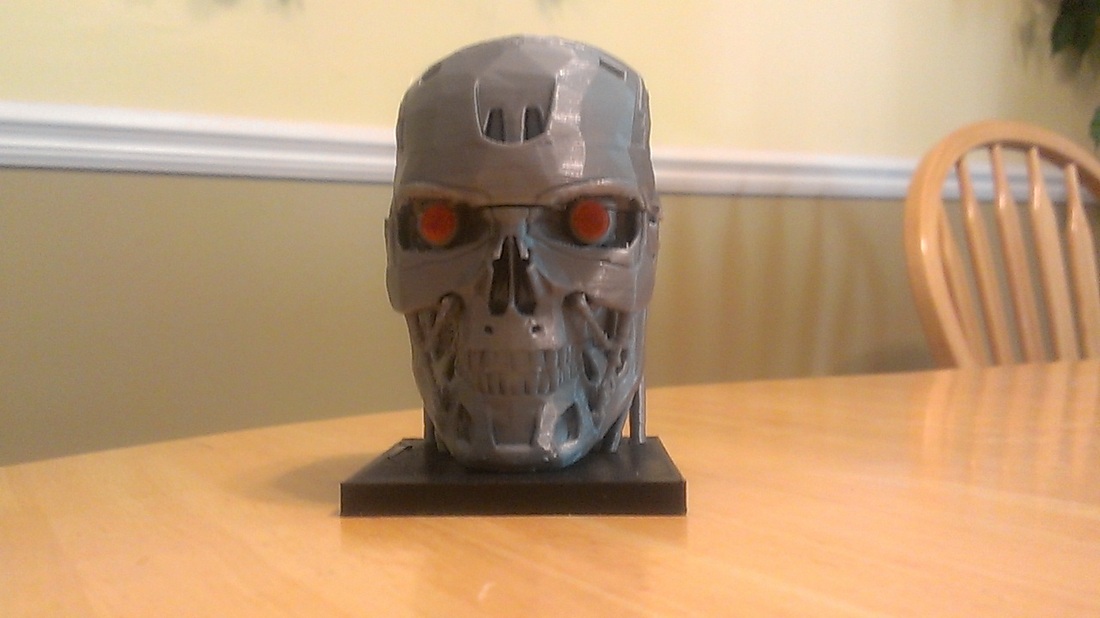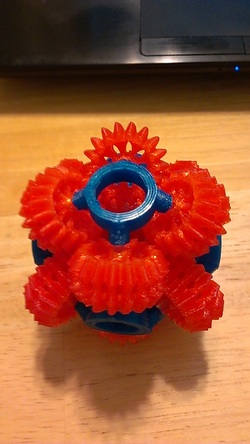 ---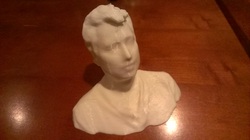 I printed my scan again, This one is from the Kossel

---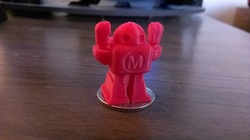 This was the torture test in the latest edition of Make magazines 3D printer shoot out. It's a good way to check your bridging, retraction and temperature settings. it's standing on a quarter.

---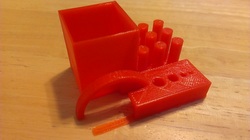 This was the torture test used from last years issue of Make magazine.
The arch part was very difficult for printers costing more than twice as much.


---
I also sell the printed parts to build your own Kossel that include my slides with the nylon screws. you can also buy the slides separate if you like.

Complete Kossel Printer
Configured for 1.75 mm filament, includes auto bed leveling, Led light for viewing prints, Load button for firmware (eliminates need for adding and pulling jumper on the board) And peek fan for printing PLA filament.
$800


Printed Kossel parts
Building your own Kossel? includes Nylon screw slides, mounting brackets for Printrboard, fan mount and led light mount (When using a 25mm fan)
$80


Slides only
Black ABS comes with 3mm Nylon screws
$25

Any questions?
Just email me at.....

Physical3d@gmail.com